Chemical v Physical Sunscreens The Pros and The Cons You Need to Know!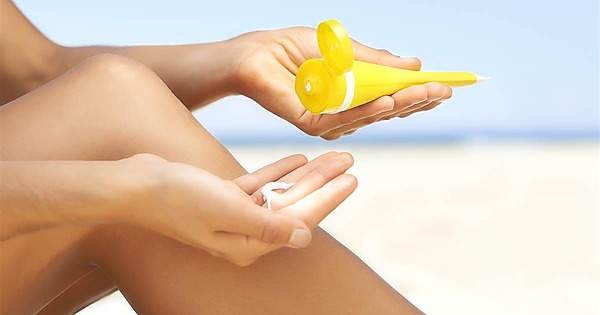 Should you choose a chemical or a physical sunscreen? Sunscreen is one of the most important steps you can take to maintain the health and beauty of your skin, and we all know by now that we should be wearing it every day. But do you know the pros and cons of the two different types of sunscreen? The two most common types of sunscreen are chemical sunscreen and physical sunscreen Physical sunscreens create a barrier on the skin that filters out UV rays, while chemical sunscreens absorb and scatter the sun's harsh UV rays. Let's break down the differences between the two so you can decide which is best suited to your needs.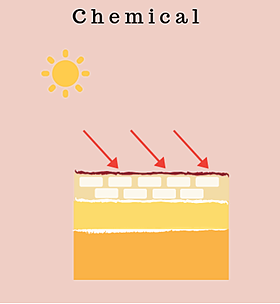 Chemical sunscreens are organic (carbon-based) sunscreens, contain chemical compounds that absorb UV rays. These chemical compounds include formulas like oxybenzone, octinoxate, octisalate, and avobenzone. These chemicals change UV rays into heat, which is then released from the skin and scattered.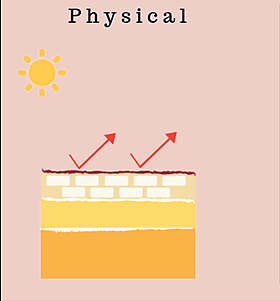 Physical sunscreens are sometimes called sunblocks. However, the Federal Food and Drug Administration regulations don't allow the term to be used in products because no product can block 100% of UVA and UVB radiation. Physical sunscreens use inorganic, mineral-based ingredients, like titanium dioxide and zinc oxide. These work by staying on top of the skin to deflect and scatter damaging UV rays away from the skin.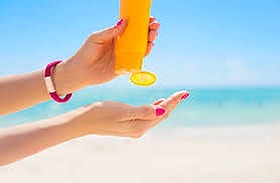 Pros
Thinner and spreads on the skin like a lotion, making them less likely to feel heavy and look chalky.

Less product is needed to protect the skin.

You'll typically find other ingredients, like peptides and antioxidants, added to chemical sunscreen, giving you a skincare boost in a single product.
Cons
Comes with an increased risk of irritation, sensitivity, and stinging to the skin and eyes due to the number of ingredients used.

Fragrances and preservatives added can cause skin irritation and allergies.

Only becomes effective approximately 20 minutes after application.

Associated with an increased chance of redness for rosacea-prone skin types because it changes UV rays into heat which can exacerbate flushing.

Can clog pores and increase breakouts on acne-prone skin.
Chemical sunscreens have been shown to make the skin more prone to free radical damage.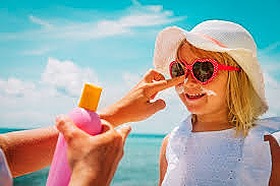 Pros
Naturally broad-spectrum, protecting against both UVA and UVB rays.

Safe for use on babies and during pregnancy.
Skin is protected from the sun as soon as it's applied; no need to wait before heading outdoors.
Less likely to irritate sensitive skin, and is better for those prone to heat-activated skin conditions such as rosacea.
Zinc Oxide is somewhat astringent, antiseptic, and anti-bacterial. It is also used to protect, soothe, and heal the skin, as well as being non-allergenic.
Cons
Can rub off, sweat off and rinse off easily—more frequent application is required.

Can appear white or chalky on the skin, especially on darker complexions or in photos. However, most modern zinc oxide and titanium dioxide are micronized to yield a sheerer formula.
Some can feel heavy under makeup depending on the brand used.
Can be thicker, which will require more effort to rub in. But again, it really depends on the brand used.
Needs to be generously applied to be fully effective and receive full coverage.